The Burlington School of Classical Ballet presents "The Nutcracker"
in December 2013 and "Cinderella" in Spring 2014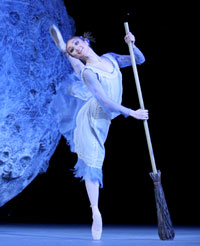 "A handsome prince makes his grand entrance, followed by the mysterious young woman with whom he will fall in love,
who is in turn followed by her two mean and ugly step-sisters. The ballet is "Cinderella" to the beauty
of Prokofiev's score presented by the Burlington School of Classical Ballet".
The Burlington School of Classical Ballet is the only school in Burlington the offers students the opportunity to study classical ballet
in Russion tradition according to the Vaganova method of teaching.
Since 1988 we have been producing traditional ballets including Sleeping Beauty, Swan Lake, Coppelia,
Giselle, Don Quixote, The Nutcracker Suite, Les Sylphides, Paquita, La Bayadère and Cinderella.

We also offer Jazz, Tap, Pointe and Ballet for 40+
Registration
Wednesday Sept. 4 – Friday Sept. 6/2013 5-7pm
Saturday Sept. 7/2013 (9:00am–2:00pm)
Classes begin Monday, Sept 9, 2013 - Register now - Welcome back returning students!
WHY US? We Specialize in Ballet!

"Let us be the ones who guide you in this poetry of foot "
3507 Mainway, Burlington, ON Canada L7M 1A9 (905) 332-4129 -- info@bballet.com
Copyright ©2013 Burlington School of Classical Ballet. A Registered Educational Institution.
website by co2digital